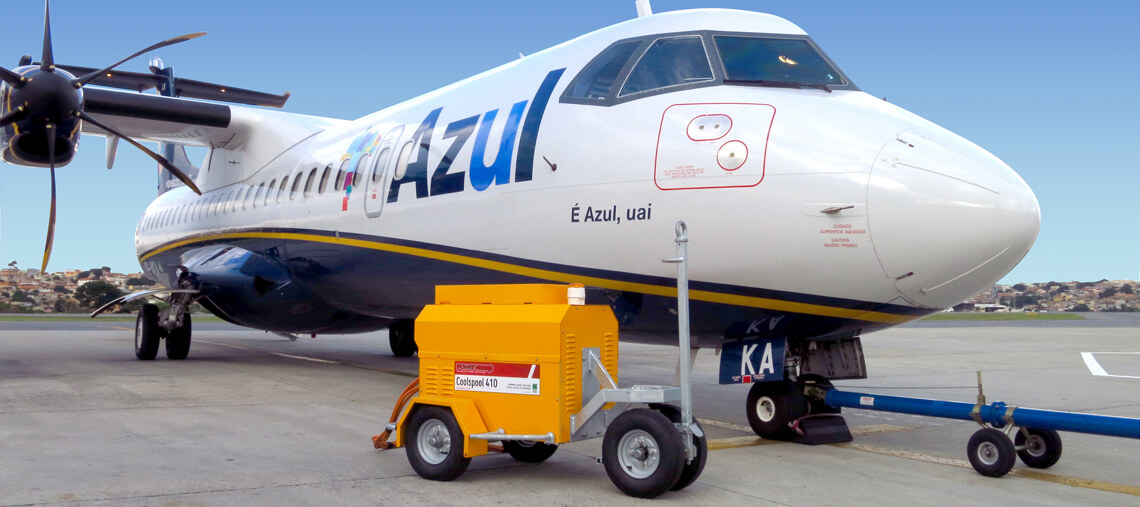 What is a Ground Power Unit?
A Ground Power Unit (GPU) is the term given to equipment that provides system power to aircraft and/or also has the ability to start the engines whilst on the ground. A GPU can refer to a dedicated DC power supply, battery-powered unit, diesel generator, or a combination of both diesel generator and battery power (Hybrid units).
Ground power units usually provide 24V, 26V, 28V DC or 115V 400Hz AC, although certain aircraft will require a more specialised power derivative. GPUs can be hand portable, towable or fixed with input power provided from a suitable utility supply.

---
Fixed Electrical Ground Power
Fixed Electrical Ground Power (FEGP) is the term given to solid-state AC frequency converters, providing 115V 400Hz of alternating current to power large commercial aircraft, via a specialised 6-pin plug.
The use of FEGP in airports allows the aircrafts engines and auxiliary power unit (APU) located in the tail to be switched off once the aircraft is on stand.  The huge fuel saving and positive environmental impact has been a deciding factor in the industry shift towards FEGP as airlines seek to further reduce annual expenditure whilst complying with new green government policies.
Powervamp provides its in-house designed and manufactured PV90-3 FEGP units to numerous airports within the UK including Bristol, Manchester, Birmingham, London City and London Heathrow. The PV90-3 uses a 12-pulse rectifier which provides improved input harmonics and power factor without compromising robustness or reliability. The PV90-3 converter is compatible with all modern aircraft including Boeing's 787 Dreamliner as well as all next generation aircraft. The unique feature of the PV90-3 is the pluggable power module which, in the unlikely event of system failure, can be easily replaced by front line maintenance staff in a matter of minutes.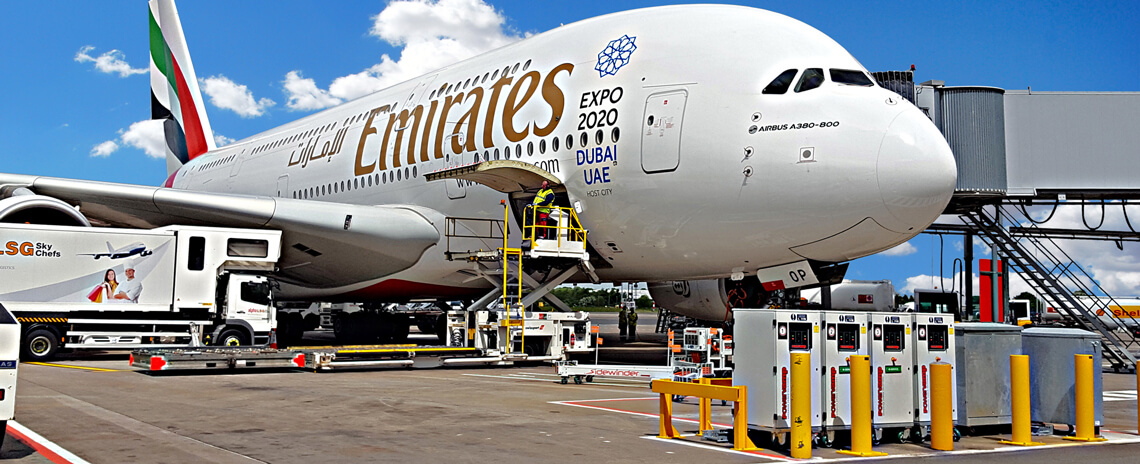 (Multiple PV90-3 powering Airbus A380)
---
DC Battery Ramp Carts
DC Battery Ramp Carts, are 26V or 28V battery powered towable GPUs designed to offer a green alternative to diesel GPUs or fixed/semi-mobile transformer rectifier units. By utilising their integral battery power, DC battery ramp carts provide zero emissions and operate silently – meaning airports and FBO's are able to greatly reduce noise pollution and CO2 emissions to meet government targets.
These towable carts utilise banks of high-discharge batteries in series/parallel to offer the required amp hour capacity required by the aircraft and are often used in remote locations where a utility power source is not available.  Regional airports often utilise the carts as it facilitates the powering of an aircrafts avionic systems away from the terminal.
The Coolspool range of DC battery ramp carts uses maintenance-free ultra-high discharge TPPL (thin plate pure lead) batteries to provide a combination of instant high amperage with a pure DC waveform.
Proven over many years of service since their first introduction, the powerful Coolspool carts are rapidly growing in popularity as regional airlines in the Caribbean, Pacific, South America, the UK and Europe expand their turboprop fleets and seek ways to reduce operating costs. With low initial capital investment and even lower operating costs, the Coolspool range of battery ramp carts have proved to be the perfect GPU where new destinations or infrequent services demand cautious investment.
The simple operation and lack of general maintenance makes the Coolspool range ideal for use at smaller airports, where gate agents or airline personnel often perform multiple tasks; while at major hubs, a regional airline with multiple departures using the Coolspool range as the source of its ground power can expect to experience huge fuel savings.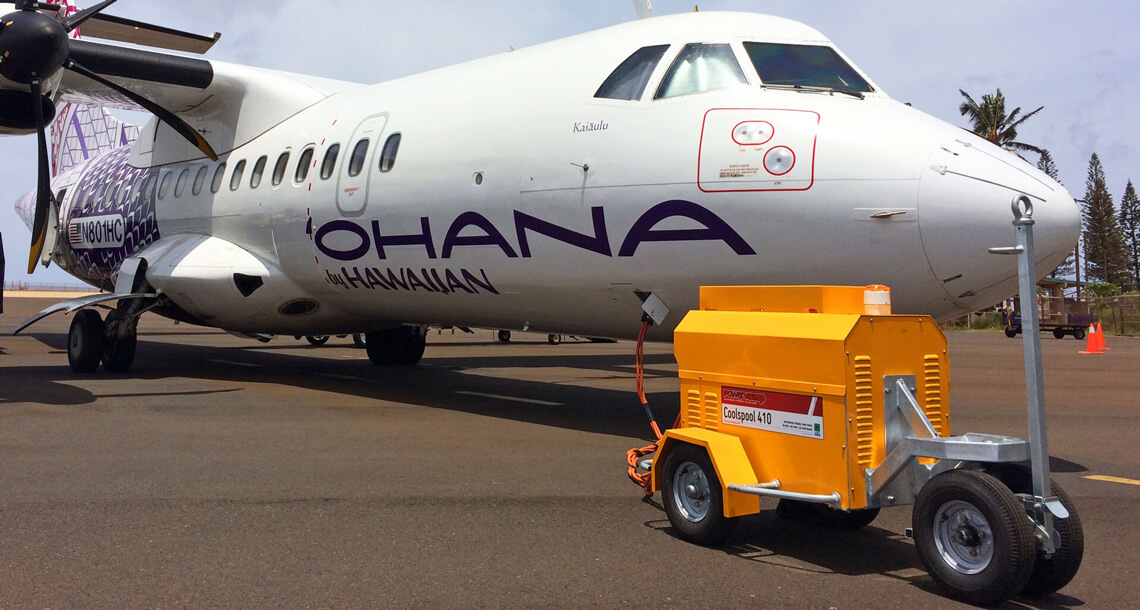 (Coolspool 410 powering ATR42-500)
---
DC Aircraft Start Units
DC aircraft start units are battery GPUs available in 12V, 24V, 26V, or 28V outputs and are designed for starting aircraft turbines within a wide range of markets – from the private operator to regional airports.
Portable battery start units are cleared for air-transportation due to their integral sealed lead acid batteries and are designed predominantly for turbine starting as opposed to providing power for avionics programming. These (relatively) light GPUs are clear for air transportation, due to their dry-cell internal batteries, and are often relied upon as 'get-out-of-jail' equipment to facilitate a small number of turbine starts in the event that the aircrafts on-board battery is flat.
The Powervamp range of DC aircraft start units have been in production for more than 20 years and are in use worldwide. These tough GPUs are known for their performance, reliability and ease of service. They are designed to take the punishing abuse that can occur from frequent use in some of the worlds most remote locations.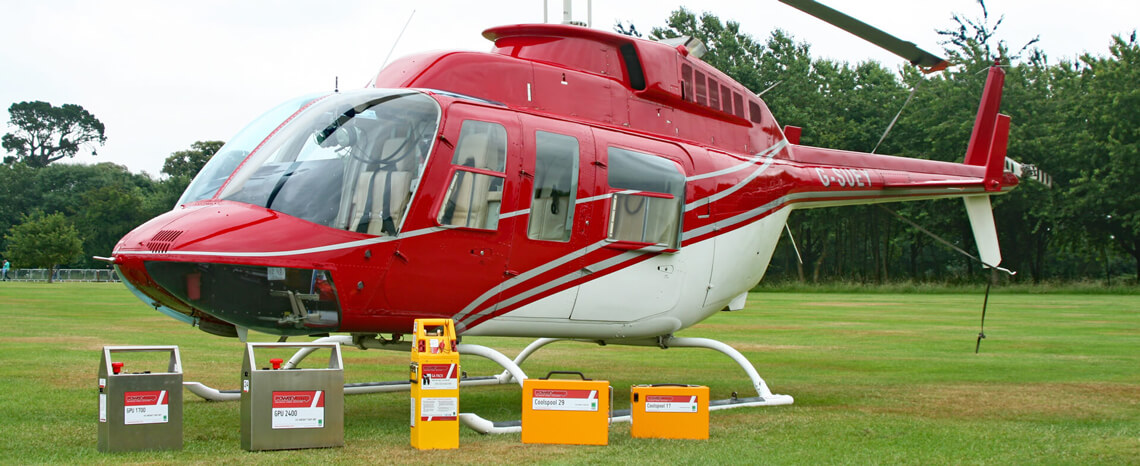 (Hand portable GPU range with Bell 206L)
---
DC Power Supplies
DC power supplies typically require a single phase input to provide a ripple-free 14V or 28V DC output.  DC power supplies are lightweight making them highly portable and popular with fixed base operators (FBOs) and maintenance, repair, overhaul (MROs) companies where power can be required for extended time periods during aircraft maintenance or software upgrades.  DC power supplies are often utilised in pilot training scenarios whereby an instructor can spend unlimited hours in the hanger teaching a student without the actual cost of flying, or wear and tear on the turbine, but still with access to the fully active avionics suite.
Powervamp DC power supplies are available in a 30A, 50A, 100A or 300A outputs to cater for all types of rotary or fixed wing aircraft and are equipped with automatic input voltage selection for international use, and current limit software ensuring plug-n-play simplicity. The range will power all types of aircraft from the smallest single seater to the largest ATR or Embraer.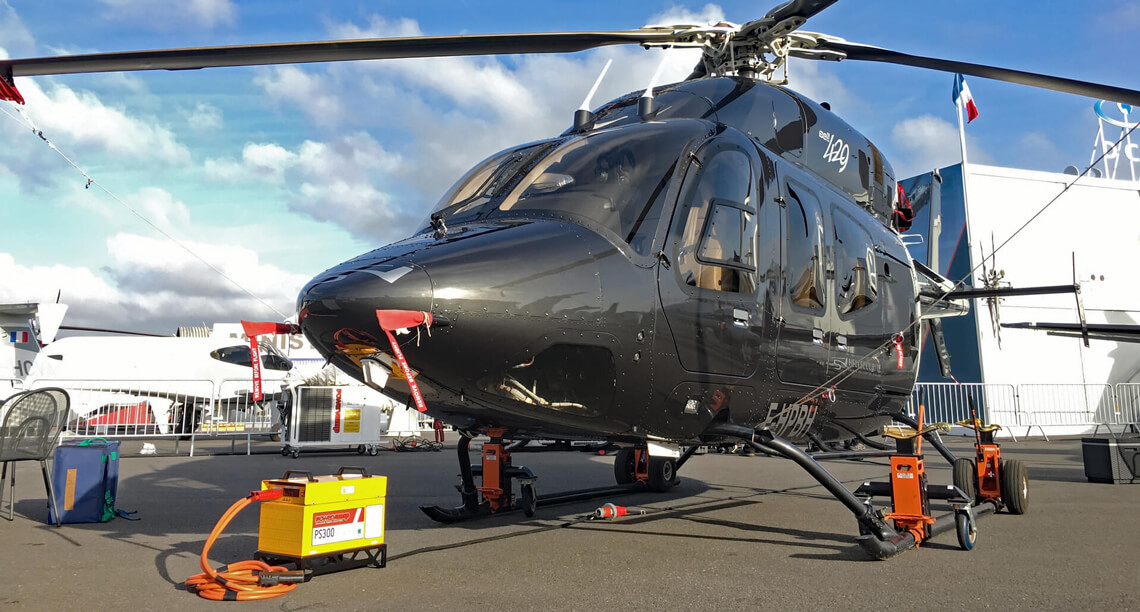 (PS300 powering Bell 429)
---
DC Hybrid Units
DC hybrid unit utilises a small Tier 4 compliant diesel engine to operate alongside a bank of high discharge batteries to provide continuous ripple free power for maintenance work in the hangar (powered by 3-phase input) or on the ramp (powered by the diesel engine). The dual power source enables the Hybrid to provide continuous DC power, similar to a power supply, for avionics use, software upgrades or navigational programming but with the massive peak amps required for turbine starting.
The Coolspool Hybrid 300 is suitable for all types of operation where multiple departures of large regional aircraft are scheduled. The Hybrid can also be fitted with Powervamp's patented 'power boost system' (PBS).  The PBS sustains voltage during the critical initial start sequence on large turboprop aircraft with shaft or free turbine engines, thereby ensuring a fast, cool start whilst maximising engine life.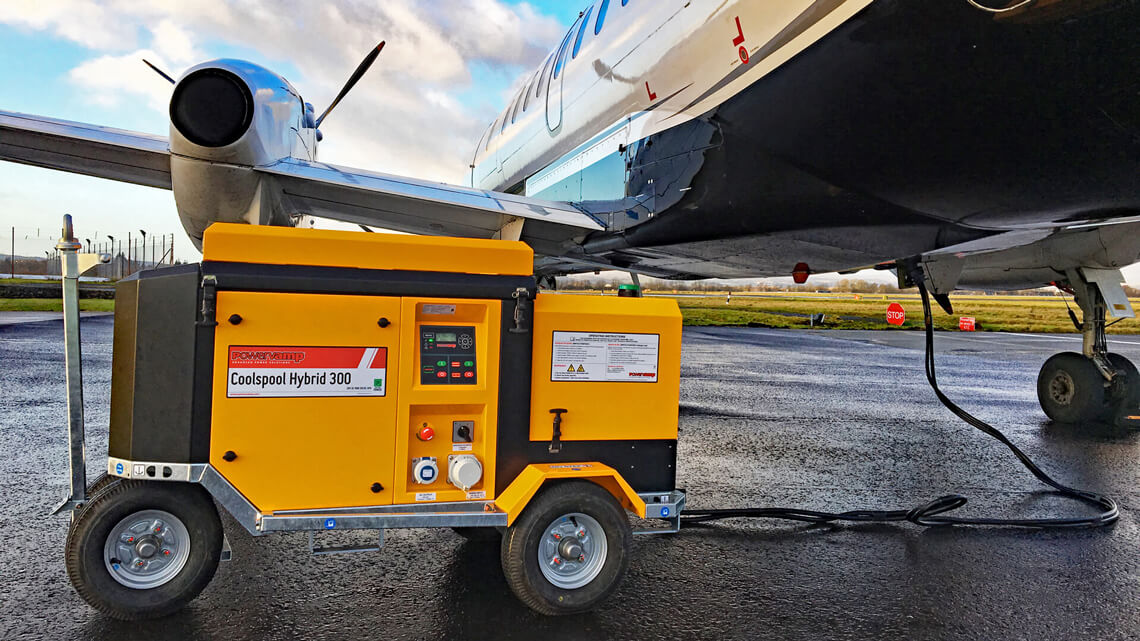 (Coolspool Hybrid 300 powering SAAB340)
---
DC Transformer Rectifier Units
A Transformer Rectifier Unit (TRU) combines the functions of a transformer and a rectifier into a single unit. In aircraft applications, the TRU converts the 120V AC power generated by the engine, or APU, or provided by a ground power unit into 28V DC power for use by various avionic components.
The environmentally clean and easy to use Powervamp TRU2400-2 offers users significant operating benefits due to its 12 pulse rectification technology. The TRU2400-2 ensures a low input harmonic distortion at nominal loads to increase the efficiency of the system, which in turn produces the highest quality output signal with minimal AC ripple and is guaranteed to be accepted by all DC aircraft.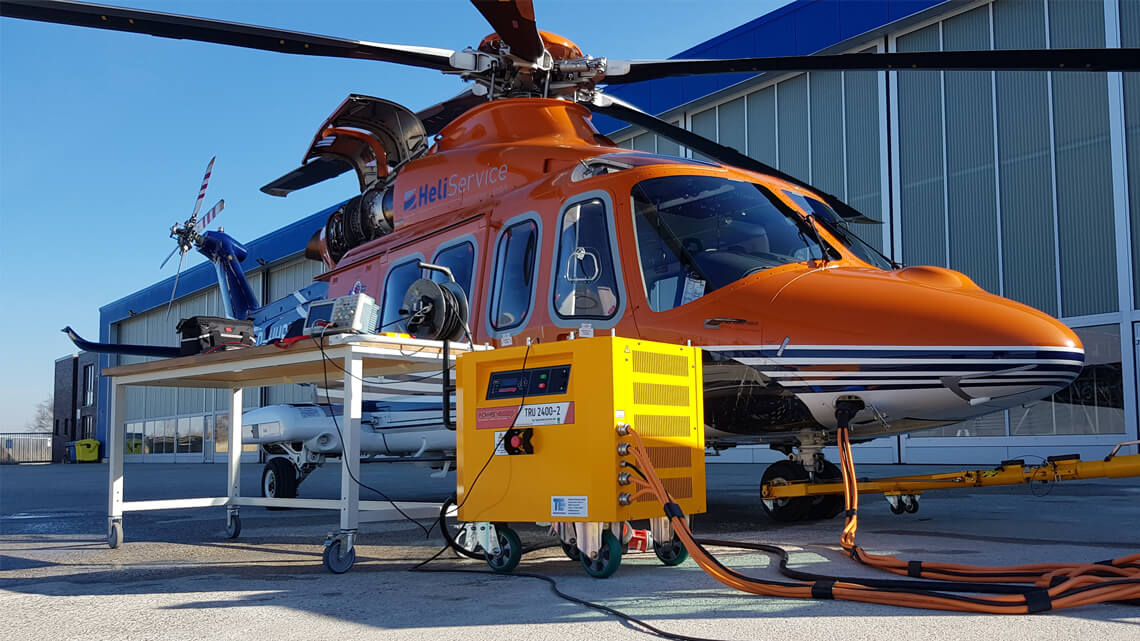 (TRU2400-2 powering Agusta Westland 139)
---
DC Combination Units
DC Combination units, utilise high discharge sealed lead acid batteries for instant turbine starting, with internal power supplies for continuous DC power for avionics updates.
The Powervamp Coolspool Combination GPU range are small, easy to move and completely user-configurable. These compact and highly portable GPUs offer numerous operator features and benefits derived from years of development and customer feedback.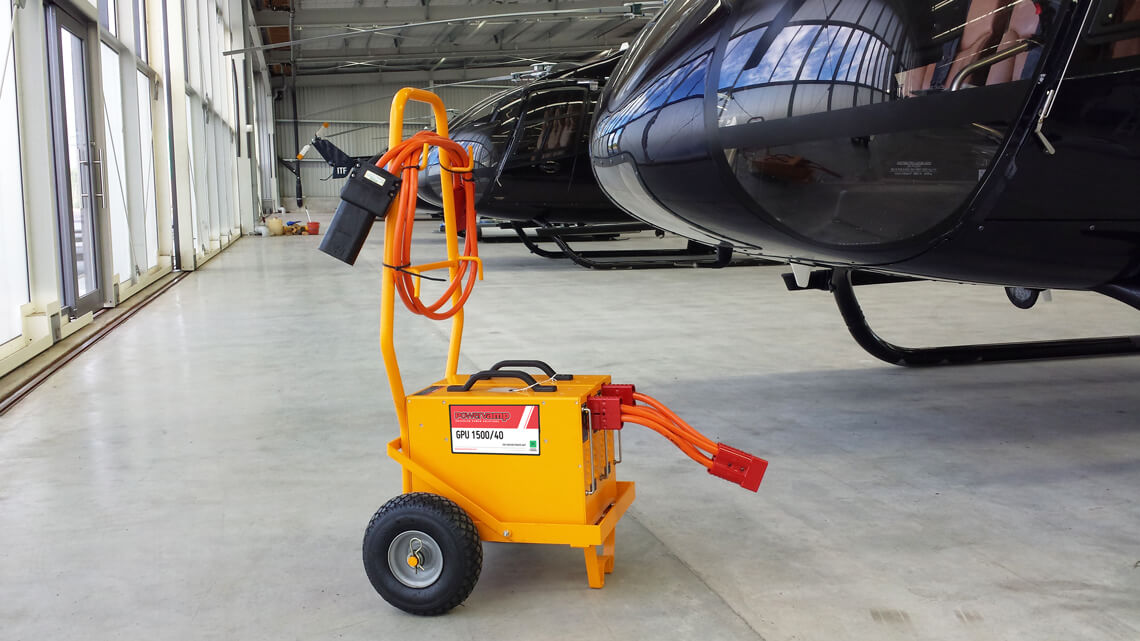 (GPU1500/40 Twin with trolley and parallel yoke)
---
Ground Power Selector Guide
Try our 'Ground Power Selector Guide' to find out which GPU you require for turbine starting or avionics programming.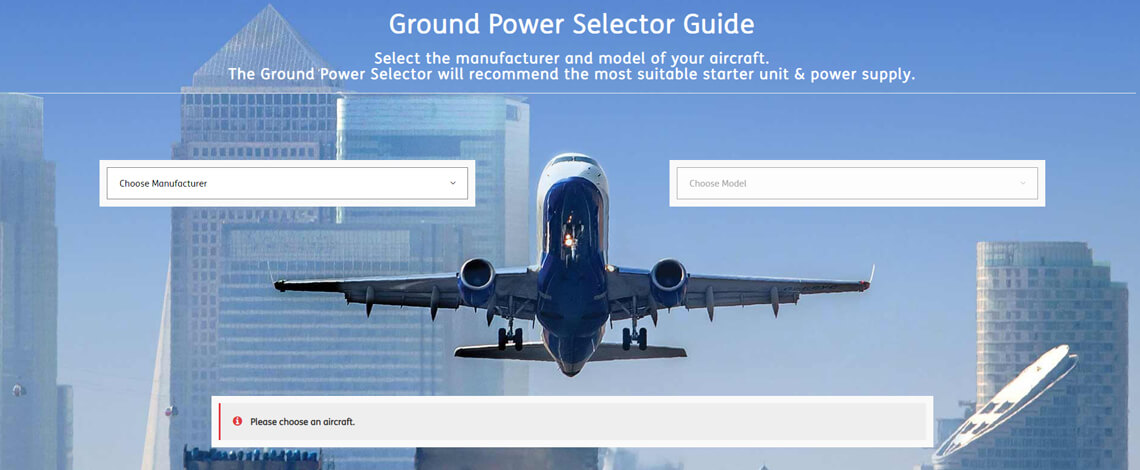 Choose the manufacturer, followed by the model to access our advice on the most suitable Powervamp products.