As a manufacturer a wide range of advanced power solutions for the automotive, aviation, emergency lighting and industrial power markets, we are often approached to re-develop, or modify, an existing product to suit a different application. With a large wealth of knowledge of engineering and bringing bespoke power applications to market, Powervamp is able to re-engineer or develop an existing unit for a bespoke application to satisfy a customer's unique requirements.

By using the in-house computer-aided design (CAD) suite, we are able to conceptualise and detail product specification to expedite the concept to manufacture process. The CAD suite also allows for real-world simulation to improve product durability and life expectancy by replicating operating environments, to further benefit the customer experience.
Automotive Production Line
Powervamp's 24V DC 'PS100' aviation power supply has been modified to provide a bespoke power solution for the Jaguar Land Rover production line. The renamed PS12-200 draws from a standard single-phase 240-volt mains electrical supply and delivers 12V DC up to 200 amps.  The power supply is used to maintain the batteries onboard the high-end vehicles as they proceed through the production line, ensuring the batteries are in peak condition once assembly is complete. The output voltage can be varied between 10 and 14.2 volts depending on the vehicle model, and the power requirements of the on-board equipment.
Double Deck Trailer Lift
The 'Coolspool 29' aviation ground power unit, (GPU) has been supplied to a number of logistics companies to solve the problem of reliably raising and lowing the intermediate decks of double-decker freight trailers.  The Coolspool 29 was originally designed as a portable battery power supply for the starting of large aircraft turbine engines.  However, the output voltage is also compatible with fleets of  double-deck trailers requiring a portable power solution to raise and lower their floors when not in the presence of their tractor unit.   The high power Coolspool offers 28V DC, up to 2,400 amps, through its advanced sealed battery technology allowing it to lift a fully-loaded trailer deck repeatedly on a single charge.
Electrically Powered Airport GPU
London City Airport has a specialist requirement for a standard Powervamp PV90-3 400 ground power unit that could be made mobile and operated by a single person.  A bespoke electric trolley was designed to transport the PV90-3 utilising a bank of high-discharge batteries and operated through the use of a multi-function control arm.  The electric trolley allowed all GPUs to be removed from the flight line before aircraft arrival or departure.
Read more on our bespoke equipment applications by clicking on the below products.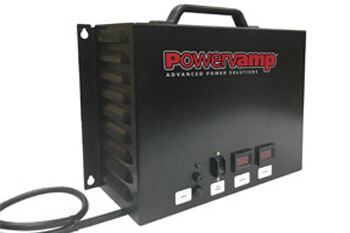 PS12-200
The specially modified PS12v-200 power supply has been installed in a number of automotive production lines.
More Info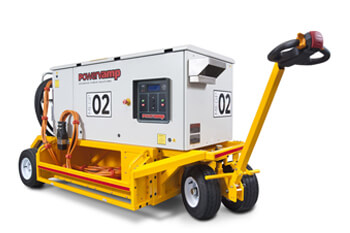 Electric Powered PV90-3
Single person operated electrically powered trolley fitted with 90kVA ground power unit.
More Info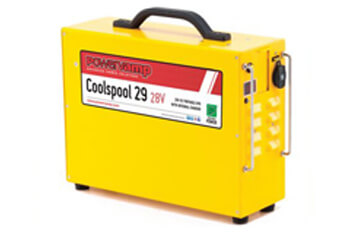 Coolspool 29
Aviation derived GPU modified for raising and lowering commercial vehicle double-deck trailer floors.