Powervamp Ltd, (the name is derived from power = volts x amps), was formed by Richard Roller in 1993. Initially building a range of portable packs for starting cars, buses and trucks, (VISIT PAGE), the company pioneered the first stainless steel, portable battery pack for starting helicopter turbines, and went on to develop a range of stainless steel packs for aircraft and vehicle starting.
Key to the company's success and expansion was the extensive "hands-on" field testing and product development carried out by the company founder and by Powervamp engineers resulting in the development of equipment to meet the needs of today's aircraft. At the same time Powervamp's design team built a wealth of technical knowledge unique to the company. This hands on testing has given Powervamp a practical and technological edge over its competitors.

The professional range of 12V/24V automotive jump starters.
Having designed its highly successfully range of portable piston engine and turbine starting packs, (VISIT PAGE), the company identified the need for a miniaturised continuous, 28V DC power supply to allow police helicopter crews to train on camera and thermal imaging systems at minimal cost while on the ground.
With Powervamps world wide reputation for reliable portable GPUs, (ground power units), and continuous power supplies, sales grew with the company relocating in 1997 to its present head office in Weston-super-Mare, near Bristol, UK.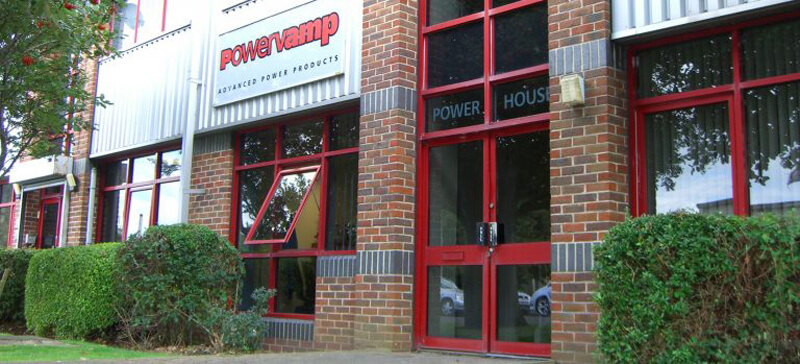 Powervamp head office located in Weston-super-Mare.
Combining its electronic design expertise and harnessing its huge worldwide customer base, the company developed a range of new products that complemented its original products. Selected by multiple armed forces as the perfect portable unit for starting armoured vehicles, helicopters and DC aircraft, Powervamp's GPUs have proved themselves in both civil and military use where performance and reliability are essential.
With the aviation industry becoming increasingly more pollution conscious, the company developed its unique heavy duty zero emission battery cart for regional airlines operating large DC aircraft on scheduled services. This award winning, unique 28V DC product range marketed under Powervamp's 'Coolspool' brand is now in daily use in the UK, US, Europe, Middle East, South America, Far East and Australia, (VISIT PAGE).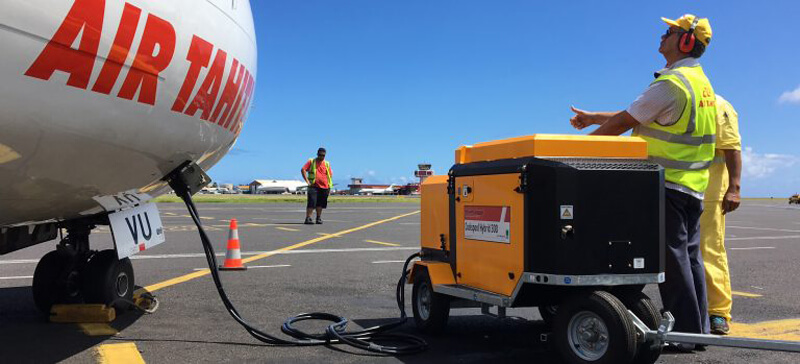 Coolspool Hybrid 300 on extensive trial with Air Tahiti.
The acquisition of Effekta UK Ltd in 2012, (a specialist company in advanced power electronics), enabled Powervamp become a serious manufacturer of advanced solid state aircraft converters to the aviation industry.
A programme of heavy investment in product development resulted in a winning design of modular solid state converter. Price and features have been responsible for multiple orders being placed by Bristol, Edinburgh, Manchester, London City and Heathrow airports and numerous FBO as well as direct with major airlines for hangar installations, (VISIT PAGE).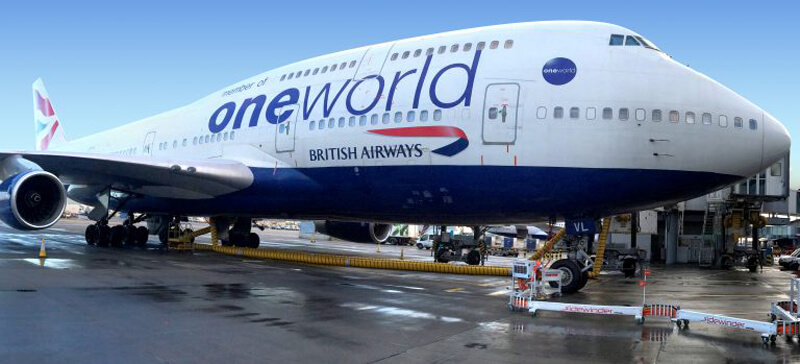 In-house designed and manufactured 'Sidewinder' cable carrier system in use at London Heathrow airport.
Powervamp's product range includes:
Lightweight Portable aircraft fuelling/de-fuelling pumps

Portable and heavy duty DC battery carts

Specialist DC products for the automotive industry.

Solid state frequency converters for Aviation.

Solid state emergency lighting converters for airports, malls, stadiums and government buildings.
The company has grown to become a recognised supplier to the world's major airports and Airlines. It owns its main premises and employs a large team of CAD and software engineers that continue to develop state of the art equipment including aircraft frequency converters and highly sophisticated emergency lighting systems for large public areas such as shopping malls, sports stadiums and airport concourses, (VISIT PAGE).
The 'Effekta' range of emergency lighting central battery systems.
Customers benefit from the fact that the company controls all aspects of production from software design to product support. It can therefor guarantee spares continuity, which is supported by a service department that does not rely on external support, third party software or contracted engineers.
The company's products are in use in more than 65 countries with installation, training and support around the world provided by Powervamp's own service team and trained engineers from its distributor network, (VISIT PAGE).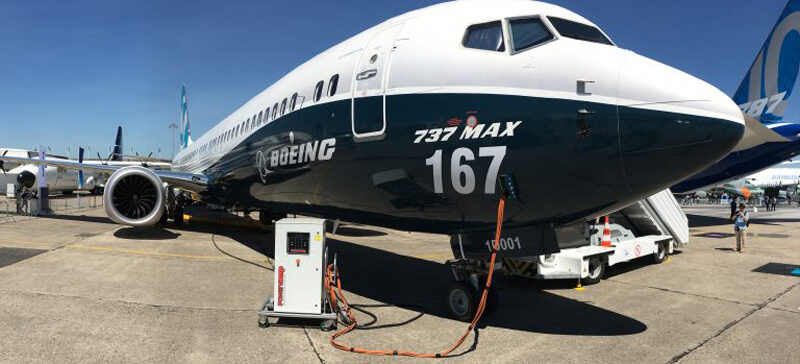 PV90-3 400Hz frequency converter in use at the International Paris Airshow 2017.
Uniquely, Powervamp is both a manufacturer and a service provider, being responsible for supplying all the ground power, with technical support, at major air shows such as the International Paris Air show and Farnborough Air show. No other manufacturer in the world has the product range, rental fleet and technically experienced team to provide this demanding service and highly specialised support to all the wold's major airframe manufacturers, (VISIT PAGE).
Powervamp – Advanced Power Solutions