The Powervamp range of professional 12V and 12/24V automotive jump start packs are engineered to multi-start a wide range of engine sizes – from small petrol cars to the largest commercial plant.
'EnerSys' drycell batteries are fitted to all our jump start packs due to their unique characteristics including massive cranking power, long service life and proven reliability in the most demanding of environments.
Every automotive jump start pack is fitted with safety features such as reverse polarity alarm and voltage spike suppression circuitry for vehicle ECU protection.
We utilise the same manufacturing processes for our automotive jump start packs, as we do for our premium aviation DC turbine starters and military equipment – every customer benefits from 24 years of experience that has derived from our continuous development within the automotive, aviation and marine divisions.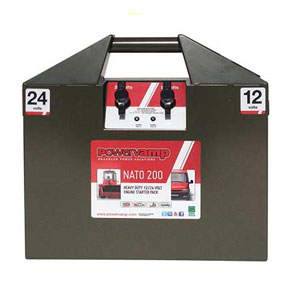 Nato 200
12/24V Heavy Duty Jump Start Pack
Ultra heavy duty 12V/24V DC jump start pack built into a steel case and designed for the ...
2450 peak amps
Sealed lead acid AGM battery
Detachable 1000A croc clip lead set
2 x internal 3-stage chargers
More info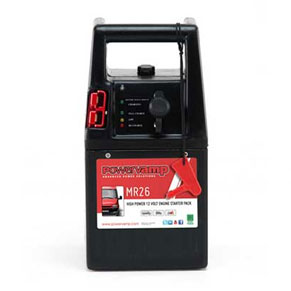 MR26
12V Professional Jump Start Pack
Powerful 12V DC jump start pack suitable for multi-starting all petrol engines and large diesel ...
2400 peak amps
Sealed lead acid AGM battery
Detachable 500A croc clip lead set
Internal 3-stage charger
More info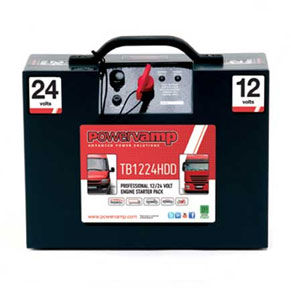 TB1224HDD
12/24V Jump Start Pack
Heavy duty, steel cased, 12V/24V DC jump start pack suitable for starting medium sized 24V ...
2400 peak amps
Sealed lead acid AGM battery
Detachable 1000A croc clip lead set
2 x internal 3-stage chargers
More info