Smart Airport Systems, an Alvest Group Company, offer solutions for airports and airlines to achieve; fuel savings, reduction in noise, reduced emissions and improved operational efficiency.
Solutions
Pre-Conditioned Air – Powerful, cost effective and reliable air-conditioning units.
Autonomous Baggage Tractor – Tracteasy®, is a driverless tow-tractor that not only facilitates a significant increase in productivity, efficiency, labour and maintenance savings but also allows enhanced safety and process compliances.
Electrical Ground Power – 400Hz AC electrical ground power units, designed specifically to meet the sensitive power requirements of today's modern aircraft.
Semi-Robotic, Pilot-Controlled Towing Tractor – TaxiBot® is a unique proven solution – certified and ready to bring both ecological and economical ground operation savings to airlines and airports.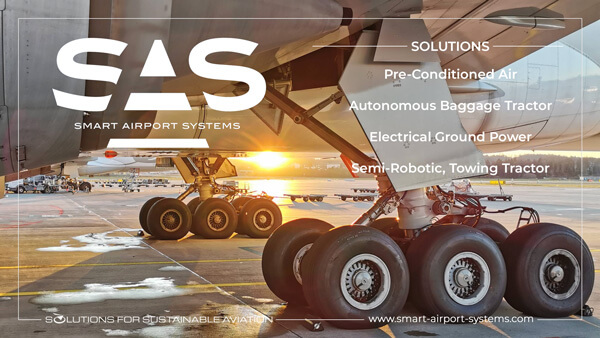 Using these modern technologies and innovative products, Smart Airport Systems is able to pave the way for a greener future.
To find how head to the website below:
https://www.smart-airport-systems.com/