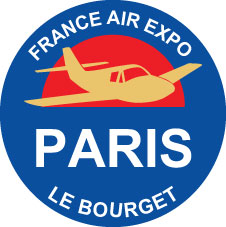 Powervamp are proud to be represented by our French distributor of DC aviation products Semia at the France Air Expo held between 7th June – 9th June.
With an expected 18,000 visitors and over 300 exhibitors this is one of the largest exhibitions in France and is the second largest General Aviation show in Europe. With 150 new and used aircraft displayed over 30,000m2   the France Air Expo brings together the main players to one place within the General Aviation Industry to propose the latest innovations from dedicated services and equipment to aeronautical training.

Paris-Le Bourget Airport, which celebrated its centenary in 2014, is an airport exclusively dedicated to business aviation, located just 7 km from Paris and 20 km from La Défense. It occupies an area of 553 hectares and has three runways, two of which can operate independently. Paris-Le Bourget hosts 75 businesses offering airport and aviation services, including the major names in business aviation, and is a top industrial pole in the Ile-de-France (Greater Paris) region as well as the leading business airport in Europe.
To get the full information on the exhibition follow the link to the main website: http://franceairexpo.com
To get more information on Semia our French distributor follow the link to the Semia website: http://www.semia.fr