Powervamp is proud to announce the launch of the 'JetGo 300' 28V DC Hybrid ground power unit (GPU), which will be exclusively sold through its worldwide DC aviation distributor AERO Specialties.
The 'JetGo 300', (formerly known as the 'Coolspool Hybrid 300'), is the latest addition to the highly successful AERO Specialties JetGo range of hybrid ground power units.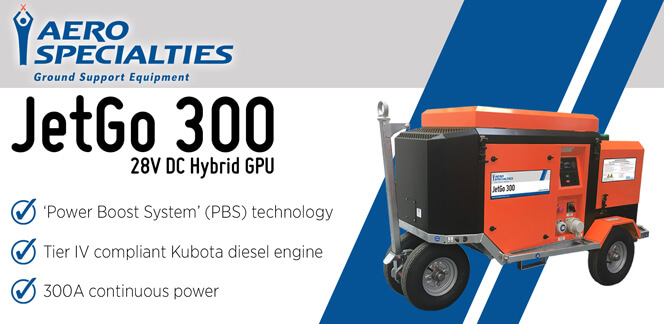 The JetGo 300 is manufactured and designed by Powervamp Ltd and is suitable for all types of operation including offshore helicopter operations, FBO and maintenance organisations as well as daily regional airline use.
The latest JetGo offers up to 300A continuous power from its 3 x 100A paralleled internal power modules and, in conjunction with its bank of ultra-high discharge batteries, will also deliver ripple-free DC power suitable for turbine starting.
This powerful hybrid GPU can be operated from either its integral Tier IV compliant Kubota diesel engine whilst on the ramp OR from an external 3-phase AC input whilst in the hangar – making it the most universal GPU on the market.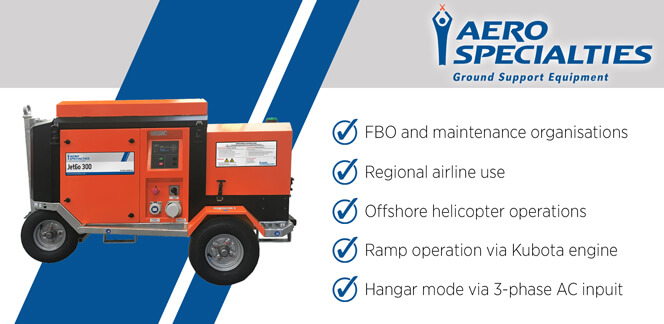 The JetGo 300 is also fitted with patented 'Power Boost System' (PBS) technology to maintain voltage during the initial turbine start sequence thereby ensuring a fast, cool start whilst also maximising battery life.
The JetGo guarantees clean power whilst delivering the versatility and essential reliability that operators demand, at a fraction of the cost per turnaround. In fuel burn, the JetGo 300 at full load consumes just 3.55 litres an hour, (0.93 US gallons), and with the power consumption of most regional or commuter aircraft, will burn only 2.4 litres an hour (0.63 US gallons an hour).
Contrast these fuel burn figures with a typical large diesel GPU, where fuel burn can be between 25-35 litres per hour, (6.6- 9.4 US gallons per hour), and the savings in fuel alone are significant.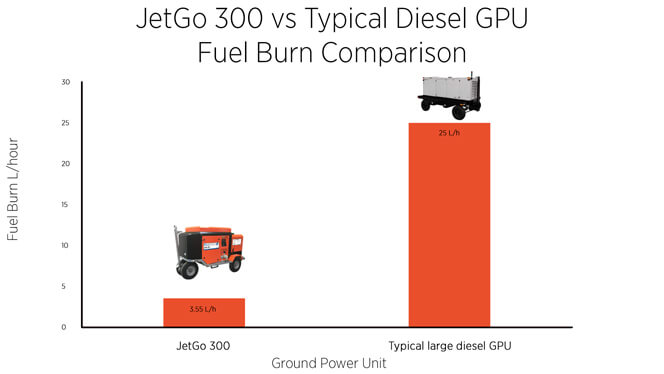 The JetGo 300 has been designed for operators requiring a versatile, standalone, high output DC power source with green credentials but at a fraction of the cost of a conventional diesel GPU.
The NEW JetGo 300 ground power unit is only available from
AERO Specialties, or authorised distributors.
sales@aerospecialties.com   /   www.aerospecialties.com   /   +1.208.378.9888