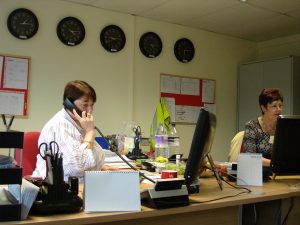 Powervamp's new "MABS" interface package brings the real-time interfacing of Powervamp's solid state frequency converters and their kilowatt usage to Airport logistics software and billing systems, reducing administration and allowing billing of ground power by time and usage.
Building on its international reputation for single source responsibility as part of its growing market in 400Hz and 28 volt DC  ground power solutions, Powervamp has developed a new software interface. Called 'MABS' an acronym for 'monitoring and billing system', it is designed  for airports and ramp service providers under increasing pressure to maximising revenue and accurately apportioning costs.  Key to maintaining margins as costs escalate is Powervamp's MABS, enabling airports or ramp operators to generate revenue based on the kilowatt/hour used and aircraft connection time to an FEGP unit.  Owners of Powervamp FEGP (fixed electrical ground power) installations now have  the option to bill the aircraft operator for the energy used whenever an aircraft is drawing power at the stand.
This can be attractive where airport operators seek a return on capital investment for their fixed electrical ground power installation, possibly undertaken initially  because of  a programme of carbon footprint and/or noise signature reduction at the ramp.  Key to the success of Powervamp's system is its simplicity which is critical for accuracy and reliability.  Even more important however is the need for the system to be easy to use and to operate in poor weather and reduced visibility by ramp staff wearing protective clothing.
Some firms  have attempted to produce a similar system to the Powervamp "MABS" (monitoring and billing system).  However, the feature  setting Powervamp's product apart for all others is that Powervamp's MABS does not use a complex manual data entry system requiring operators to key in information on the ramp.  Any ramp input data function is time consuming and proven to be prone to input error thus invalidating the data and creating  subsequent billing issues that take time to resolve.  Instead, Powervamp's MABS operates seamlessly in the background, monitoring the usage of the FEGP and reconciling the data with an airport's logistic software, such as the popular 'Manageair' system.
With Powervamp's MABS system,the FEGP unit simply connects into the airport IT network via an ethernet connection, eliminating the need for installation of a proprietary network. Up to 255 individual units can be connected in a single system.  The monitoring software is installed on a server within the terminal building, this stores the usage data in an SQL database in a suitable format to be reconciled with the airport logistics software. Powervamp normally liaise directly with the logistics software provider to ensure this happens seamlessly.
In addition to the normal  billing data, Powervamp's MABS incorporates an automatic error reporting facility, instantly alerting the reporting centre should a specific FEGP unit develop a fault ,thereby ensuring aircraft can be diverted before arriving at an unserviceable stand.
The benefit of Powervamp's MABS is the complete absence of a QWERTY key board.  It is it considered highly inadvisable for ground staff to attempt to input data via a QWERTY key board at or in the vicinity of the ramp. In trials carried out at one of the UK's busiest airports, it was irrefutably demonstrated that keying errors, exacerbated by adverse weather, operators with gloved hands and the negative views of various ground handling companies and their staff, condemned any use of key board and data inputting as impractical and error prone.  Further, it was demonstrated that ground staff resented the time spent attempting to input data, seeing it as a direct obstruction to the maintaining of their tight aircraft schedules.  With the Powervamp MABS system there is no input required by the aircraft  handlers other than to connect  power to the aircraft external power receptacle and switch on.
Powervamp are proud to provide many services, including emergency lighting products.