Powervamp was recently invited to contribute to a feature within the Autumn edition of Airside International magazine. This informative article highlights the more environmentally friendly ground support equipment (GSE) on the ramp and explores the momentum behind the industries' eventual willingness to get 'green' with their GSE.
Powervamp has a strong presence within the article due to their long-standing industry credentials, and continuous product development of the 'green' Coolspool range of ground support equipment.  However, as Sales Director, James Ackland explains, its the legislation that is driving the requirement for new green technology:
"The demand for more environmentally friendly equipment is increasing rapidly. Although on the face of it the requirement for 'green power' is being led by legislation, it is actually the economics of the environmentally friendly alternative that is driving the demand."
The Coolspool 410, and innovative Coolspool Hybrid 300, are featured as examples of how cleverly engineered GPUs can save the customer money on the ramp whilst also being environmentally friendly.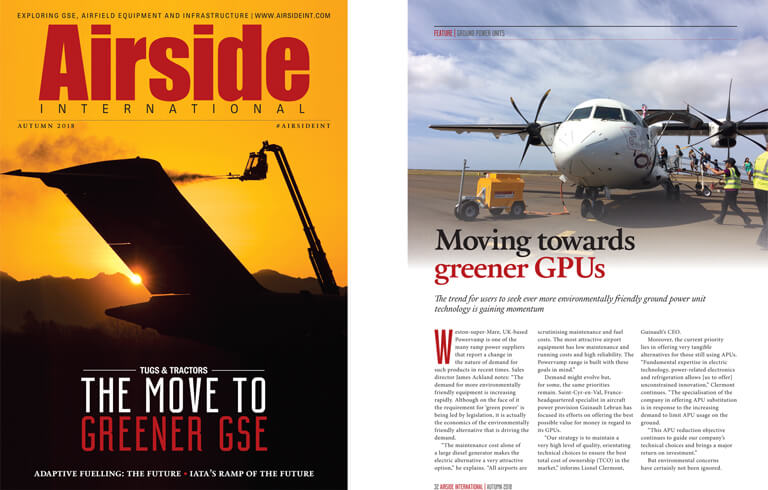 The aviation industry mindset has changed over recent years to become more socially and environmentally responsible 
Coolspool 410
The Coolspool 410 28V DC battery cart is designed for use on DC regional jets and DC turboprop aircraft in scheduled airline services. Using maintenance-free ultra-high-discharge TPVRLA (thin plate valve regulated lead acid) batteries, the Coolspool 410 delivers the combination of instant high amps for starting with the key feature of guaranteed pure DC waveform, essential for the highly sensitive electronics on some modern DC aircraft.
"..zero carbon footprint and noiseless operation benefit operators with its environmental & marketing advantages…"
The Coolspool 410 battery cart has proved itself as a direct replacement for diesel ground power at the ramp. Operating at a fraction of the cost of a diesel GPU, the Coolspool 410 delivers huge cost savings for airlines.
Its zero carbon footprint and noiseless operation also benefit operators with its environmental and marketing advantages, while its total silence significantly improves the working conditions of ramp personnel through the absence of fatiguing noise.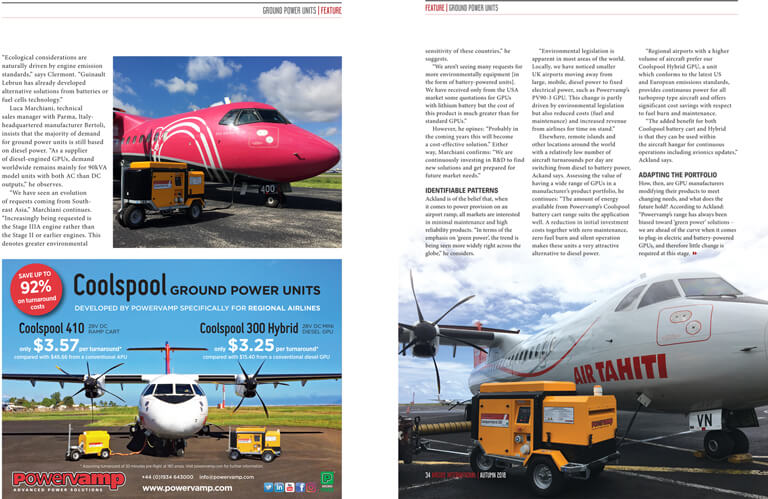 Powervamp started its 'Greener Power' program many years ago in anticipation of the shift in environmental awareness
Coolspool Hybrid 300
Powered by a 3-cylinder, water-cooled Kubota diesel engine, fully Tier IV compliant, the Coolspool Hybrid 300 is designed to provide continuous power for avionics and to start the engines on all DC turbine and turboprop aircraft.
Coolspool users benefit from a compact unit, user-friendly controls and very low operating costs, with the further advantage of low dBA signature and reduced CO2 emissions. Normally, a diesel GPU four times the size of the Coolspool Hybrid 300 is necessary to deliver the peak amperage for starting large turbines.
"…the Coolspool Hybrid 300 is suitable for all types of operation, including large regional aircraft…"
The Coolspool Hybrid 300 achieves the same starting performance using a 900cc (55 cu In) Kubota diesel engine coupled to a powerful generator powering 3 x 100amp 28V DC power supplies. These operate in parallel with a bank of high discharge batteries that provide instant ripple free power for turbine starting and aircraft loads exceeding 300 amps.
The Coolspool Hybrid 300 is suitable for all types of operation, including offshore helicopter operations, FBO and maintenance organisations and daily regional airline use. Where multiple departures of large regional aircraft, such as the Q400 or ATR, are scheduled, the Coolspool Hybrid 300 can be fitted with Powervamp's 'PBS' (Power Boost System).
The PBS sustains voltage during the critical initial start sequence on large turboprop aircraft with shaft or free turbine engines, thereby ensuring a fast, cool start while maximising battery life.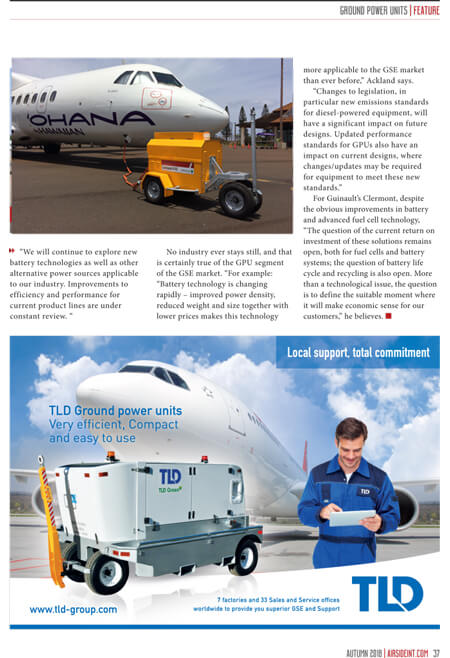 Our thanks to Airside International for their permission to print extracts from their Autumn edition 2018.
Click HERE to read the article in its entirety.
If this wasn't what you were looking for, contact us on 01934 6321000 to speak to a member of the team. We're experts in power solutions, so will be more than happy to answer your queries, such as what is a static frequency converter or information regarding emergency lighting regulations.