Small size and low weight are critical requirements for hand-portable aircraft start units, which is why the Powervamp GPU 1700 and GPU 2400 portable aircraft start units have been so successful over the last 24 years of production.
The range is in daily use with numerous civil and military organisations around the world because of its tough, corrosion resistant, all stainless steel case designed for use in extreme environments where regular turbine starting is required.
To ensure the overall footprint is kept as small as possible the GPU1700 and GPU2400 models are fitted with dual internal emergency chargers.  These mini chargers will re-charge both batteries independently at a maximum of 2.3A and are designed to be used over an extended time period – over night for example.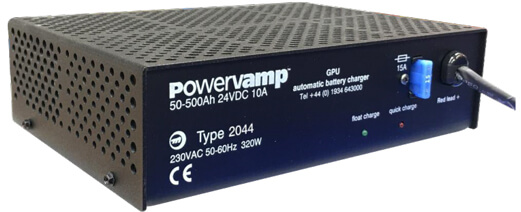 The 24v, 10a GPU Fast Charger is ideal for the GPU1700 & GPU2400 models
However, there are times when an expedited charge cycle is required with these GPUs.  Frequent users of these Powervamp GPUs, who still wish to retain the essential benefits of mobility or hand-portability should consider the new optional GPU Fast Charger.