The 52nd Paris International Airshow will take place at the Le Bourget Parc des Expositions from 19 to 25 June 2017, and will once again bring together all the players in the aviation global industry as well as the latest technological innovations.
The show is held every 2 years and has more than 150 aircraft displayed to visitors, of which a number of these are also involved in the famous flying display held every afternoon.
These spectacular displays are one of the show's high points, giving airframe manufacturers the opportunity to showcase their technological expertise and allowing visitors to witness the latest innovations.

Powervamp has once again been awarded the unique contract to supply ground power to all aircraft on display in the static park for the duration of the show.
The airshow runs from Monday 19th to Sunday 25th June, although Monday to Thursday are classed as 'trade' days, Friday is reserved college and university students and the weekend is general admission.
"With typical temperatures in excess of 31 degrees centigrade on the tarmac, the airshow division will have to work flawlessly…"
The Paris International Airshow alternates each year with the Farnborough International Airshow, (which was also powered by Powervamp last year), and is the 8th time Powervamp has been awarded the contract.

The event is the world's largest and oldest air show and was established in 1909. Presidents, prime ministers and royalty are regular guests and one of the major purposes of the events is to demonstrate military and civilian aircraft to potential customers. Major aircraft sales contracts are often withheld, only to be announced by manufacturers during the show.
"Powervamp has been awarded the prestigious International Paris Airshow contract for the 8th time…"
Powervamp will supply, and install, a range of 45kVA & 90kVA frequency converters, as well as DC power supplies and air-conditioning units to provide silent power to the world's largest airframe manufacturers including Airbus, Boeing, Bombardier, Pilatus, and Gulfstream.
With typical temperatures in excess of 31 degrees centigrade on the tarmac, the airshow division will have to work flawlessly despite the heat to ensure cable runs are specified correctly, equipment is tested prior to installation and all exhibitors receive a first class service.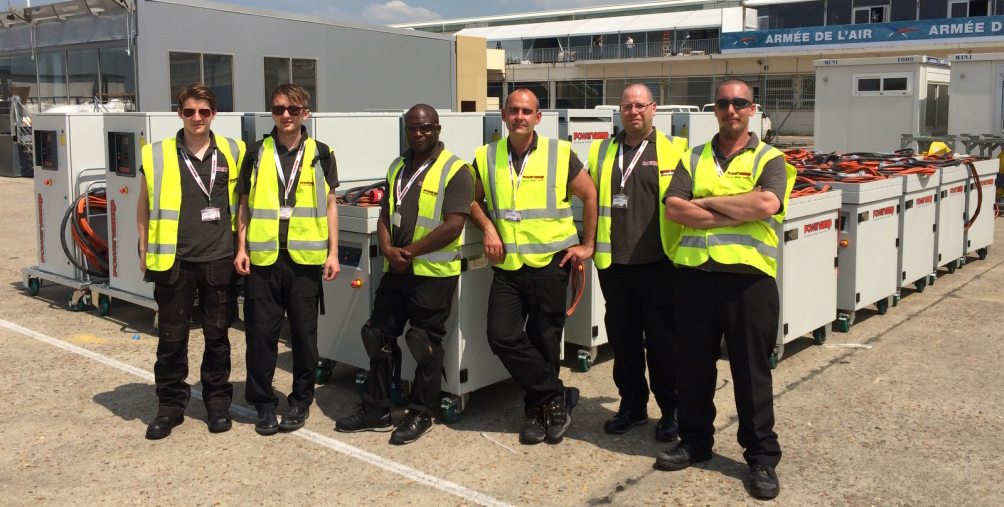 As preparations get under way, and the equipment starts its final test procedure before being loaded for its journey to Paris, the aviation airshow team will be familiarising themselves with this years site map and dealing with last minute power requests – as well as keeping a mindful eye on the weather.
With a multitude of collective experience, the team know how the blistering midday heat or torrential rain could affect the otherwise smooth running of an airshow.
The airshow team always have a fluid plan incorporating several back-ups alternatives to ensure they deliver the usual first class service, whatever the situation…which is one of the reasons why Powervamp have been awarded this prestigious contract for a record 8th time!
For more information on the full range of Powervamp aviation products, or the airshow division, please call
+44 (0)1934 643000 or email info@powervamp.com