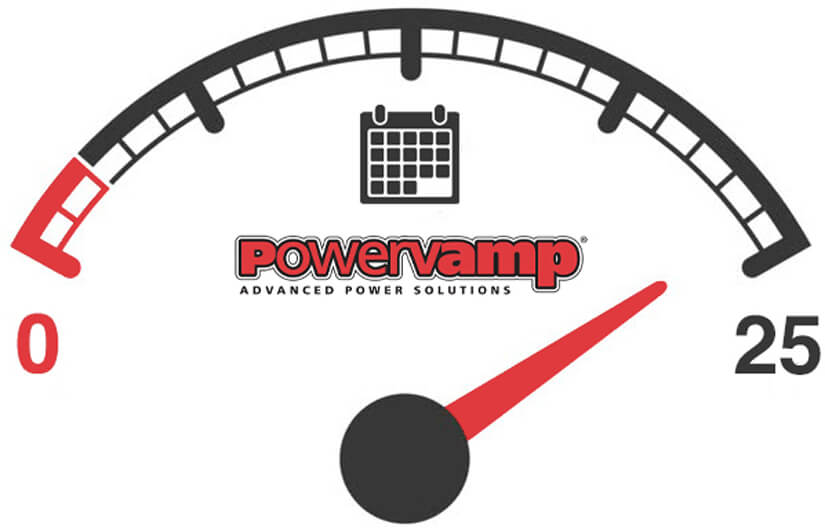 2019 will see Powervamp celebrate its 25th anniversary – and it's been an incredible journey as the company evolved from its humble beginnings operating from a kitchen in North Somerset to becoming the huge multi-national manufacturing business with customers in over 67 countries worldwide.
The expansion over the years hasn't always been easy, and it's taken the steady leadership of Richard Roller and, more recently, Ken Walker to keep the company in good shape as it continues to move from strength to strength.  However, let us revisit some of the landmark events that have shaped the company, and set the tone for the last 25 years…

Field testing within the automotive, rail and commercial vehicle industries was key to the companies early success.
The 'Powervamp' name is derived from the formula 'power = volts x amps' and was formed by Richard Roller in 1993.  The company was incorporated in 1994 and has over the years built a reputation for refusing to compromise on quality whilst still meeting customer's requirements. It was, however, the automotive jump start pack market where the company first made a name for itself.
"…key to Powervamp's success was the extensive 'hands-on' field testing…"
Powervamp started out manufacturing battery jump start packs to start small petrol and diesel engine cars with flat batteries on garage forecourts, auction houses and dealerships.
The concept of a powerful, rechargeable dry-cell battery in a bespoke moulded carrying case, that could be used to multi-start 12v vehicles, was new to the industry; but through the relentless demonstrating by Richard across the entire UK, customers became convinced once they witnessed the portability and massive engine cranking ability of the product.

The aviation industry was to play a massive part in the future growth of Powervamp and its product lines.
With a limited range of automotive jump start packs being manufactured, the company took an interest in developing a small aviation derived product using the same batteries, but for starting helicopter turbines – and the first portable DC ground power unit (GPU) was assembled.  Richard quickly saw the huge potential within the aviation market and continued to develop new products to meet the customers aviation requirements.  The range grew bigger and more powerful to meet the customers demand.
"…sales grew as a result of its reputation for reliability and quality…"
Key to Powervamp's success was the extensive 'hands-on' field testing and research carried out by the Powervamp engineers resulting in the development of equipment to meet the demands of the automotive and aviation industries. At the same time, Powervamp's design team had accumulated a wealth of technical knowledge unique to the company. As a result Powervamp had gained a practical and technological edge over many of its competitors.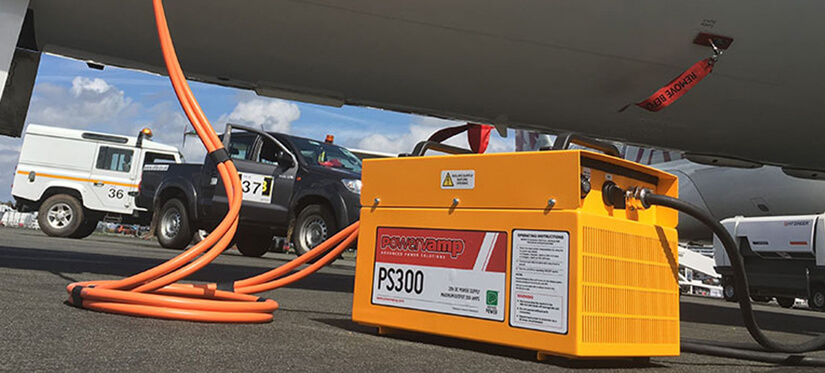 28V DC power supplies were designed to compliment the range off 24V DC ground power units.
Having designed it's highly successfully range of portable piston engine and turbine starting packs the company identified the need for a miniaturised continuous, 28V DC power supply to allow police helicopter crews to be trained on FLIR thermal imaging systems whilst on the ground, thus saving expensive fuel and flying hours.
Powervamp's sales began to grow as a result of it's reputation for reliability and quality which eventually led to the company relocating in 1997 to its present head office in Weston-super-Mare.
"…the award-winning 'Coolspool' eventually convinced the industry that silent, non-polluting, DC ramp carts were the future…"
With its electronic design expertise and growing worldwide customer base, Powervamp had the confidence to start bidding for military tenders.  Powervamp products would win tenders, being selected by multiple armed forces, as the most suitable portable power product for starting armoured vehicles, helicopters and DC aircraft. The Powervamp GPU range and jump-start packs had now proved themselves in both civil and military applications where performance, reliability and support were essential requirements in the field.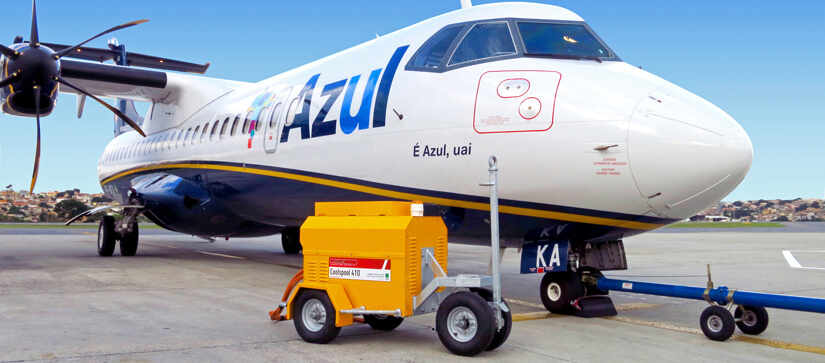 The award winning 'Coolspool' heavy duty battery carts helped make the aviation industry more environmentally conscious.
Throughout the millennium, the aviation industry became increasingly environmentally conscious. Powervamp responded by developing its unique heavy duty zero-emission battery carts for regional airlines operating large DC aircraft on scheduled services. The award-winning, 28V DC product range marketed under Powervamp's 'Coolspool' brand eventually convinced the industry through a number of high profile international trials, that silent, non-polluting, DC ramp carts were the future with Airlines actually saving money by using this 'green' alternative to the old generation diesel GPUs.
"…the acquisition of Effekta gave Powervamp access to another product range…"
With new generation aircraft requiring increased power to run their avionics suites whilst on the ground, Powervamp had to develop more powerful equipment to service this requirement.  In 2012 Powervamp acquired Bedfordshire based Effekta UK Ltd, (a specialist in advanced power electronics) which enabled Powervamp to develop and manufacturer specialist 400Hz aviation frequency converters for the powering of large passenger aircraft at international airports – and so the PV90-3 was launched.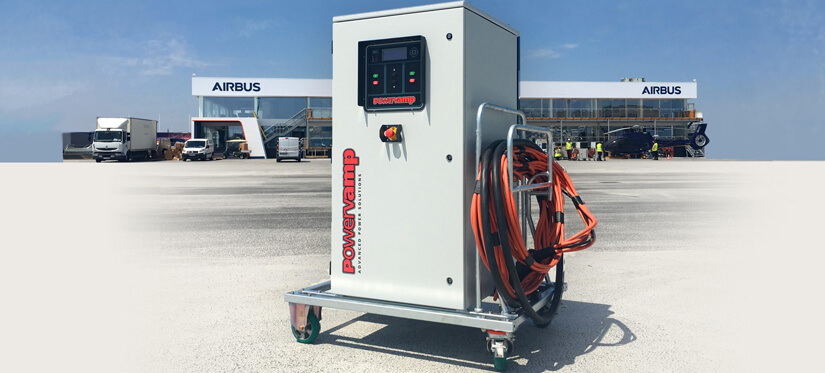 The 400Hz PV90-3 frequency converter allowed Powervamp to bid for much larger airport tenders.
The acquisition of Effekta also gave Powervamp access to another product range that was manufactured in Bedfordshire – emergency lighting central battery systems. These systems are required by UK law to be installed in any public or industrial building and in the event of power failure, the emergency lighting central battery system must switch to battery power long enough to allow people to leave the premises safely.
"…uniquely, Powervamp is both a manufacturer and a service provider…"
Powervamp were now able to offer 400Hz converters but without any large airport customers to reference, was proving tough to compete with some well established competitors. However, following a successful trial at local Bristol Airport, the equipment was eventually purchased, and installed, which allowed Powervamp to embark on an aggressive campaign to promote and trial frequency converters at the UKs largest international airports.
Powervamp have now supplied numerous airports including Edinburgh, Luton, Manchester, London City and Heathrow airports who have placed multiple orders for this specialist equipment.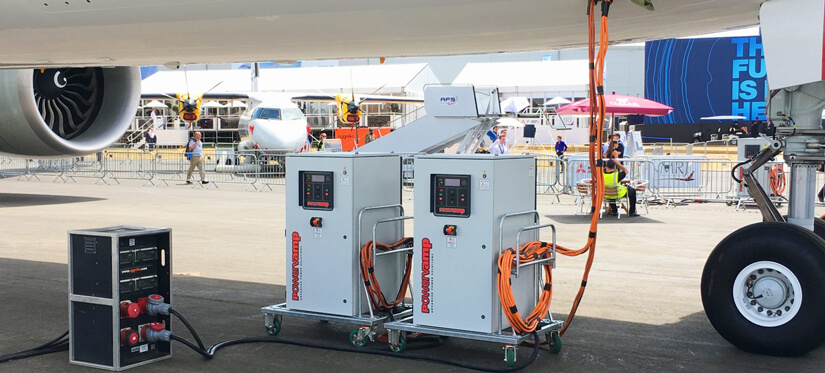 High profile airshows are a great way to promote equipment, and services, in front of the worlds aviation press.
The aviation product range, technical knowledge and large stock meant Powervamp was an obvious supplier for airshows where there was a requirement to power all static aircraft on display to enable them to run their avionic systems without the need to run their un-environmental APU (auxiliary power unit).  Powervamp has now won the contract to provide all ground power to numerous airshows over the years including the Farnborough, Paris and Singapore airshows.
Manufacturers such as Airbus, Boeing, Bombardier, Dassault and Embraer, to name but a few, all rely on Powervamp to offer this unique service whilst they are in the static airpark.  This allows Powervamp to use their GPU's and static frequency converters on the latest generation aircraft, whilst also gaining valuable feedback for the R&D teams.
"…the CAD department has expedited the 'concept to completion' ethos…"
Uniquely, Powervamp is both a manufacturer and a service provider – no other company in the world has the product knowledge, rental fleet or technically experienced team to provide this highly specialised support to the world's major airframe manufacturers.  Once again, Powervamps 'hands-on' experience has proved crucial in the securing of a new income stream.

The CAD suite has expedited the design process – Powervamp can bring products to market in a fraction of the original time.
In recent years Powervamp has developed its own CAD (computer aided design) team to facilitate its in-house design processes which can vastly reduce the development time by allowing changes to be made immediately.  The CAD department has expedited the 'concept to completion' ethos, by simulating real-world performance with the ability to make technical design changes instantly.
Powervamp customers also benefit from the fact that the company controls all aspects of production from software design to product support. It can, therefore, guarantee spares continuity, which is in turn supported by a dedicated in-house service department that does not rely on external support or third-party contracted engineers.
"…products are in use in more than 67 countries and with installation, training and support provided by a dedicated team…"
In 2017, the constant growth within the aviation sector and commitment to quality, service and understanding the customers requirements brought Powervamp to the attention of France based ground support equipment manufacturer, TLD.  TLD expressed an interest in acquiring Powervamp to compliment its own range of ground support equipment and in late 2018 Powervamp joined the TLD organisation to rub shoulders with a handful of other quality manufacturers and suppliers within the aviation industry.

Over 25 years Powervamp has become a manufacturer of advanced power systems…where will the next 25 years take us?
As Powervamp turns 25yrs old, the company can reflect on a number of milestone events that allowed it to grow, develop new concepts and push technical boundaries – but it has never forgotten its roots or its absolute dedication to servicing the customers requirements, an ethos that is every bit as as important in 2019 as it was in 1993.
With products in use in more than 67 countries and with installation, training and support provided by a dedicated team of engineers, the large production, R&D, CAD, service and airshow teams stand behind the increasing range of power products and offer unprecedented product support.  Powervamp is Advanced Power Solutions.
For more details on the Powervamp story, visit our 'About Us' page HERE, alternatively you can access our visual timeline of key events that transformed the company over the last 25 years from our home page HERE.