Indeed, so smooth and powerful is the pure DC power delivery that pilots have expressed astonishment at the delivery achieved by such a small, compact and quiet GPU, noting that the voltage drop at the moment of starter engagement is far less than from a GPU quadruple the size.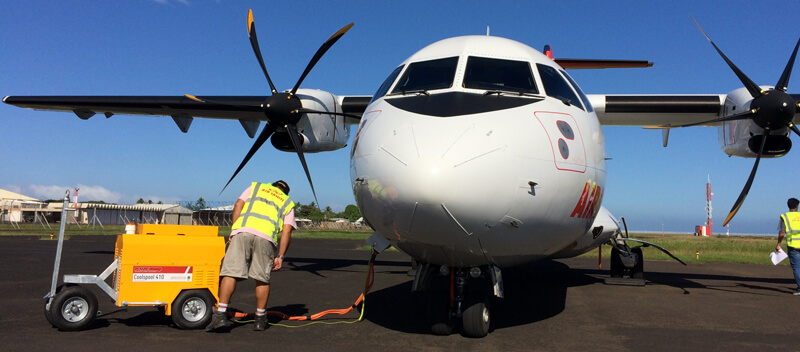 Air Tahiti were impressed with the trial results and have since placed multiple orders for the Coolspool 410
Tailoring an airline's ground power to these varying airports used to be a crude, "one size fits all" type of approach. With the high cost of a conventional GPU, "one size" typically meant no ground power at remote airports and large inefficient diesel GPUs at busy airports or at the main hub.
Adding to the situation was the cost of bore glazing and consequent high fuel and oil consumption caused by running for long periods under a light load.
"…trials duly terminated and for both airlines, the benefits have been tangible: each has placed multiple orders for the products…"
Solving these issues was a priority for management at both Azul and Air Tahiti. Powervamp offered to prove how it had the right product for each specific situation by providing a free trial unit.
In the case of Azul, Powervamp shipped one of its large DC Coolspool 410 28V DC battery carts to its ATR base in Belo Horizonte for extensive trials. For Air Tahiti, Powervamp identified two distinct requirements and sent a Coolspool 410 followed by the Coolspool 300 Hybrid.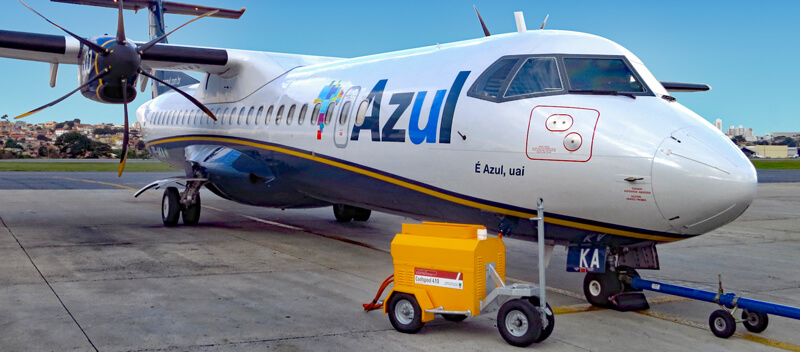 The Coolspool 410 went through a rigorous initial trial at Azul Airlines based in Belo Horizonte airport, Brazil
The trials duly terminated and for both airlines, the benefits have been tangible: each has placed multiple orders for the product, a testimony to the savings and performance of both types of GPU.
In capex justifications subsequently shared with Powervamp's management, both airlines enumerated some key benefits. With the Coolspool 410 cart, no maintenance was required and a ten minute introduction fulfilled any training requirement. Investment was low and the unit suited to remote and infrequent operation.
Pollution was absent and noise levels lower, resulting in less fatigue for the handlers involved. Easily moved by hand, the unit was quickly adopted by handling teams. The Hybrid scored equally well, with praise for its battery function.
These new generation carts are changing ground power perceptions within the aviation industry, with more regional airlines benefiting from the numerous benefits offered by the Coolspool Hybrid 300 and Coolspool 410 GPUs. Our aviation power solutions also include aircraft static inverters, to convert bulk AC power to different frequencies.
To see the Coolspool Hybrid 300 and the Coolspool 410 in the field watch the full promotional video below.
For more information on how Powervamp can reduce costs within your regional airline, please contact info@powervamp.com or call our UK sales office on +44 (0)1934 643000.