Powervamp is proud to announce the launch of new products, adding to our already existing leading power solutions, such as aircraft static inverters and emergency lighting systems. Our new range of fast chargers are designed specifically for the Coolspool 17 and Coolspool 29 DC ground power units.
The Coolspool portable aircraft start units are currently supplied with an internal 1.9A emergency charger designed to recharge the unit over an extended time period, however frequent users of these units who require an expedited charge time should consider this new optional charger.

The Coolspool fast chargers are available as 26V DC or 28V DC output with a wide input range for worldwide operation
The Powervamp Coolspool fast charging system is designed to re-charge your Coolspool ground power unit quickly and safely whilst also optimising the batteries for maximum longevity.
The charger is available in four dedicated versions to charge the Coolspool 17 or Coolspool 29 ground power units at either 26V DC or 28V DC. These microprocessor controlled fast chargers feature a 3-stage step charge control with a low current start up and battery recovery feature.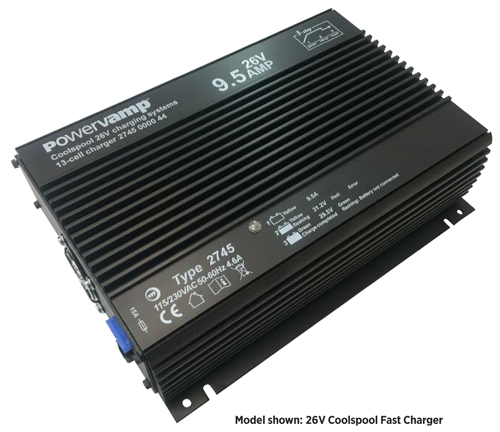 Each charger is also fitted with reverse polarity, short circuit protection, temperature controlled cooling fan, and has a wide input range to allow for worldwide operation.
In addition the units 3 step charging options can offer boost charge, top-up charge and pulsing float charge, along with a wide input voltage/frequency range.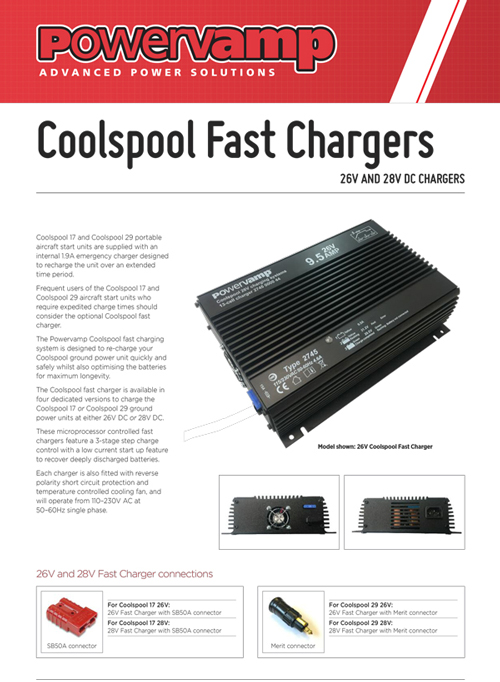 To read the full technical specification of the Coolspool fast charger, download the datasheet HERE.
To learn more about the Coolspool 17 and Coolspool 29 DC aircraft start units,
visit our dedicated GPU pages HERE.